COMPANY
Message from the president
I would like to take a moment to reflect on the history of our scissors manufacturing since our founding in 1963.
I would like to express my heartfelt gratitude to our customers in the hairdressing and beauty industry, our distributors and suppliers, and the people of our local community.
We will continue to strive for excellence in our scissors and to increase customer satisfaction.
We look forward to your continued patronage.
Toshio Hasegawa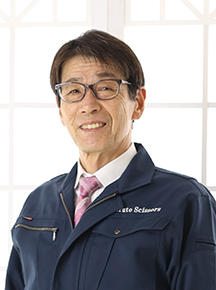 Company Name
NARUTO SCISSORS
Established
1963
President
Toshio Hasegawa
Business description
Manufacture and wholesale of hairdressing and beauty scissors
Address
Head office・Factory
Postal code:665-0821
Address:2-19-23, Akura-kita,Takarazuka,Hyogo,Japan
TEL:0797-81-1263(Head office)
   0797-81-1262(Factory)
FAX:0797-86-2850(Head office)
   0120-833-414(Factory)